KE: As a parent, you've got to, if you're a good parent, see the changes that are happening in your kids. My youngest son loves to do animation - I mean, violent animation. But that's okay, you keep a check on that. But, he's doing it from an artist's level. I mean, to re-enact - he wouldn't dream of it. In their upbringing I allowed them to get all of that out of their system. Riding motorcycles - across the countryside of Sussex. You let them do that. They had a go at clay shooting, with my shotgun, under strict control. I had the Sussex constabulary, the police, stand by. They taught me to shoot, and I passed that on to my sons. Now, they have no wish to own a shotgun. They've done it. Even with the motorcycles - and I'm very pleased that they are sticking to four wheels, instead of two. But it's a catastrophe that happened. Surely you'd notice your sons lurking around doing 'zeig heils' and Nazi salutes - and become a little bit suspicious.
RS: Supposedly they were into German music. I remember a group called Laibach that did stormtrooper rock.
KE: My sons are into German music, but they are into all kinds of music.
RS: When we were kids, at least when I was - music didn't tell us to kill cops, or hit our bitch upside the head. Do you think that music by the likes of Marilyn Manson, and Hole has a negative influence on children?
KE: (Pondering for a moment). No. I mean, with my two sons, they listen to it. But we discuss it. Do they consider it a joke, Marilyn Manson tearing up the bible, or Sinead O'Connor tearing up a picture of the Pope? I'm not sureÖbut they've seen their own dad, tearing up an organ apart and sticking knives into it.
RS: Busting up a Hammond onstage is in itself a violent act. Did you ever get any flak for doing that?
KE: Only from the Hammond Organ company.
RS: I remember a letter reproduced in the Victory Records ELP Compilation from the Hammond Organ company, in response to a letter you had written them.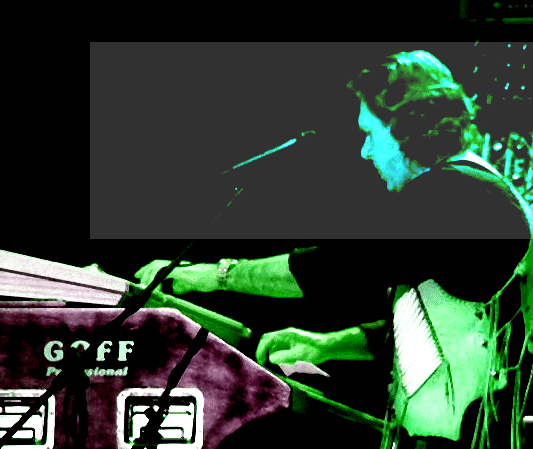 KE: That's right. I was very young, and at that time I was living with my parents in Sussex, and I was doing a lot of jazz gigs playing terrible pianos, and I thought it was best to get my own instrument to take with me. So, I looked around, and the only thing available in this organ shop was an L-100.
RS: How old were you at that time?
KE: I was twenty, and it appeared to me - as a matter of fact, I had this same discussion with Brian Auger, himself who was a piano player, and it was quite amazing at how two histories line up with each other. We both started as keyboard players. So, this L100 - it was a piece of furniture. It was going to be difficult to ship around. But, my father said 'don't worry, we can overcome that hurdle, I mean - this is a Hammond Organ, it's a great sounding instrument!" So we got it back home, and my mother polished it religiously. But it didn't quite have the sound of 'Walk on the Wild Side'. Brian Auger had the same experience. He had bought an L as well. Look, it was a Hammond - but it didn't sound like Jimmy Smith. We learned later that Jimmy Smith had a B-3 with the tone wheels, and it was a whole different kettle of fish. RS: You had mentioned that your father was behind you buying the Hammond. What role did your parents play in encouraging you to get into music? There's that famous story about John Lennon's aunt Mimi, who said 'The guitar is fine John, but you'll never make a living playing it'.
KE: I can relate to that. My father's statement was "It's very good, but don't make a living out of it". He never said "you'll never make a living out of it", but he did say, if you were going to make a living out of it, "then you'll have to play something that people can sing"!
It was obvious that Keith took great joy in talking about his family. His website biography states that Keith started picking out songs at the age of 4 by copying the melodies of show tunes that his dad was fond of playing. Keith's parents were in awe of his success, and relished every jump in the charts and platinum album that he received. I remember once Keith lugging out volumes of articles that his mother had meticulously saved, each article or review interspersed with a card she received from Keith, or from a fan, from different parts of the world.
Sadly, Keith's dad passed away in 1981, but even today, Keith told me that he plays for his father, and that he is still a very big influence on the way he writes today. I asked Keith when his parents recognized that he had talent.
KE: I was about three years old - I used to run around the house, making up songs. I couldn't play an instrument, but I sang. I would ask my mumÖ"What did you think of that one"? And she would answer "Very nice Keith, yes, lovely". I was encouraged all the way.
RS: Did you have a piano in the house?
KE: No. My parents were not wealthy people. My father struggled just to maintain the family. I remember that I used to mix with my friends who had brothers and sisters. I was an only child, and I would ask my mum "Why don't I have a brother or sister" and she would answer "because we can't afford it". Which is quite an amazement because when I had my first child, it didn't cost me anything! Anyway, my father played accordian in an Army band, and he would occassionally drag it out, strap it on, and play it, and he would make beautiful music. But it was too big for me to pick up. My father wasn't a big man, but it was amazing how he could play it. I still have it, and I still can't play it. It's too big, too heavy. Anyway, later, we moved into a council estate, and an upright piano arrived. It was a huge piece of furniture, and my father played that as well. It was something I didn't have to pick up. It was approachable, and I could bang out some stuff.
RS: Put yourself in the place of your father. What would you have done differently in encouraging your talent?
KE: I would have done just what my father did. Find a good teacher, as I found for my sons. Although I was 'gifted' in playing the piano, I feel the worst thing you can do is to try and teach your own children yourself, because there is a natural rebellion that occurs. What I did with my two sons was to oversee their piano practice. They were taught by another teacher.
RS: Was she intimidated by you at all? Here she is, coming to teach Keith Emerson's sons to play piano, and you were monitoring the lesson.
KE: Not at all. My sons were just two other children. She taught other kids, and if she was intimidated, then she would have been the wrong person to teach them.
I had to laugh inwardly during this part of our conversation. It would be like Al Unser (a famous Formula 1 driver) sitting in on a driving lesson. Once the teacher leaves, Al gets in the car and challenges his kids to a race. I imagined the teacher telling the young Emerson boys that the piano was a finely tuned instrument, a thing to respect and cherish, and once she left the boys, their old man would show them how to leap up on it, hammer out staccatto riffs, and pluck the inner strings, finally driving a couple of switchblades into the piano.
RS: Did your sons ever feel like they could never measure up to you? Or did they feel that they had something to prove to you?
KE: That's a very good question. I think about 4 years ago, my eldest son Aaron, who is playing keyboards and is sponsored by Korg, as I am, was asked if he was intimidated by his famous father. We were being interviewed, and I hung back, wanting myself to hear what his answer would be. "Well, dad plays the way he plays, and I play the way I play". And I thoughtÖdamn good answer. The same when Eric Clapton was approached about Mark Knopfler - "what do you think about this Mark Knopfler of Dire Straits? His technique is amazing, aren't you intimidated by that" and Eric said "not really, he plays that way and I play my way".
RS: Good answer.
KE: It's the only answer.
RS: What is Aaron doing now?
KE: He's struggling in England with his band. I give him lots of pointers. Last year when we played Jones Beach with Deep Purple, a marvelous coincidence happened. Aaron was in New York, doing a showcase with his band - I was in Jones Beach with my band. He and his band had a night off, and they visited me in Jones Beach, and the next night I had a night off, and I was able to see my son play in his showcase. I was ecstatic. Aaron said 'dad, this is great! You have your band, I've got my band, and we are together!' It was a buzz. He even corrects me sometimes. 'Dad, why don't you go in this direction - listen to this band.' Recently we gave a guy, Andrew Wodeen the 24 track of Welcome Back My Friends, and he turned it into a dance mix. It's full of all that tweeking, and syncopation, and it's good! I mean, it's definitely a way to go. My son listened to it, and said 'that's fabulous! You should do more of that!' I said well, I could do that!
RS: Does your other son Damon feel ostracized, because he's not into that groove that you and Aaron share?
KE: No. I've been very fair with both of them. He dabbles with the piano. His main thing is artwork and graphics. When Aaron had piano lessons from the local teacher, Damon had piano lessons. When Aaron got a keyboard, Damon got a keyboard. He chose to go in a different direction. You have to listen to your children. Yehudi Menuhin, the great violinist that just passed away - his children do totally different things. One is into archaeology - not because they are threatened by their great father, but it's just what they want to do. I'm proud of my kids, they are doing what they want to do.
RS: It must be hard, geographically, your sons are in England, and you're in California.
KE: They come and visit me, and they love it out here. I don't want them on top of me all the time. I love my mother dearly, but it wouldn't be suitable for me to live with her all the time.