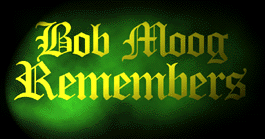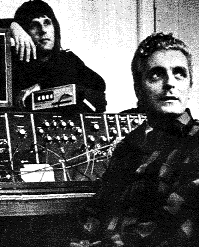 Hello, fans of Keith Emerson! I'm Bob Moog, the original founder of Moog Music. Here's the story of how I first met Keith. I hope you enjoy reading it.
Back in 1969, Moog Music (the company was called R.A. Moog, Inc. back then) was producing modular analog synthesizers. Wendy Carlos' all synthesizer album Switched-On Bach had just begun its meteoric rise in popularity, so many other record producers wanted to try their hands at making 'Switched-On' records. Just when we were busier than we really wanted to be, we got a call from the Museum of Modern Art in New York City. It turns out that they wanted us to put on a live synthesizer concert that summer, in the museum's sculpture garden. Now, our modular synthesizers were never designed for live performance! They had lots of patch cords and panel controls, all of which had to be set just 'so', in order to get the right tone color. But the idea of putting on a live concert sounded like fun, so we decided to build four special synthesizers, and to equip them with push-button presets so that they could be played in live performance.
The concert was a wild event. We were struggling to finish the construction of the instruments right up to the day of the concerts. Four thousand people showed up, packing the sculpture garden to capacity. Some top studio and jazz musicians, playing under the direction of Herbert Deutsch and Chris Swanson, took part in the concert. Our instruments actually didn't work that well, primarily because we didn't have enough time to test and tune them. However, the musicians were so great that they made the concert a memorable occasion.
We brought the instruments back to our factory after the concert, and spent a couple of months fixing the instruments up so that they would really work well. Then we put them on sale. Our London distributor ordered one. He told us that it would be going to a young, talented musician by the name of Keith Emerson. At that time I was unfamiliar with Keith's reputation.
I happened to be in London a short time after we shipped Keith's modular synthesizer. Our distributor suggested that we pay Keith a visit. As I remember it, the visit was at 'tea time'. Keith told me how fascinated he was the sound of Switched-On Bach, and how happy he was to have the Moog modular synthesizer. He told me that it arrived while he, Greg Lake, and Carl Palmer were working on their first album, and that he was able to use it on the cut 'Lucky Man'. At the end of the visit, Keith gave me a test pressing of the album.
I was completely knocked out when I listened to the test pressing. In a very short time, Keith had figured out how to work the synthesizer, and how to make it sound really good! Keith used the portamento (glide) to give a fresh, exciting, and lyrical quality to the cut. Today we are familiar with that kind of sound, and those of us who are electronic keyboardists generally know how to produce a sound like that. But back in 1969 and 1970, nobody had ever heard anything like it. Keith invented it - and then he used it to play a tune that, in a lyrical way, really rocked.. That was an amazing display of spontaneous creativity.
Keith kept his Moog modular synthesizer, and periodically added stuff to it. It became an important component of his sound, which is familiar to and beloved by millions of fans around the world. It also became an important part of his stage presence.
So this is how the ongoing collaboration between Keith Emerson and Moog Music got started. I'll tell you more about this collaboration in future columns. I'll also tell you more about the history of Moog Music.
The company I'm currently associated with is Big Briar, Inc. Our web site is http://www.bigbriar.com. I guarantee that I'll read your letters. I'll try to answer you, but it may take a while.
Look for my next 'Emerson-Moog' column here!